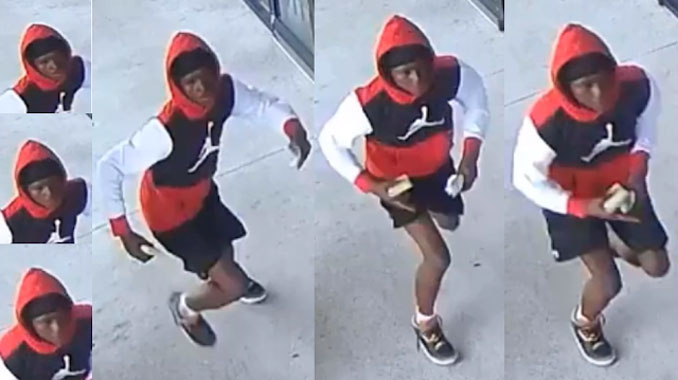 A woman was robbed after she made a withdrawal at a Bank of America ATM at 9875 Blackhawk Blvd, Houston, Texas day morning, February 13, 2023.
Nhung Truong, 44, was followed by a robber over 23 miles away to a shopping center on Bellaire around 11:30 a.m. where she was robbed.
The single mother with three children, ages 13, 15, and 20, was body slammed and robbed of $4300. The body slam caused paralysis involving her left leg.
The offender is described as a black male in his early 20s, 5'8″ 140 LBS, and is at large. The robbery is believed to be a jugging incident.
Jugging

A specific crime where a suspect follows a customer (victim) as the victim leaves a bank or ATM, and then robs the victim.
Houston police are searching for the suspect caught on video body-slamming a woman to the ground during a robbery attempt in southwest Houston (KPRC 2 Click2Houston). YouTube Tips ⓘ
A woman was left paralyzed after a man robbed her and then body-slammed her to the ground. Houston police are asking for the public's help to identify the assailant. FOX 26's Natalie Hee reports on the story and spoke with the victim and her family. YouTube Tips ⓘ
VIDEO: The attack damaged the 44-year-old's spinal cord and left her paralyzed, unable to walk or use the bathroom by herself. https://t.co/Vse62TOFuk pic.twitter.com/oTVpo87NxA

— FOX26Houston (@FOX26Houston) March 13, 2023
We need your help to identify the suspect wanted for a robbery by force (jugging) at a shopping center on 2/13 at 9800 Bellaire. @CrimeStopHOU pays up to $5k for info leading to the charging and/or arrest of any felony suspect.

Story->https://t.co/eJba6a65Qx @houstonpolice pic.twitter.com/LmUSrfFOdF

— Houston Police Robbery (@hpdrobbery) March 10, 2023
Official release from Houston Police Department Robbery Division, March 10, 2023.
Suspect Wanted after Violent Westside Jugging Robbery
The Houston Police Department's Robbery Division needs the public's assistance identifying the suspect responsible for a robbery by force.
On Monday, February 13, 2023 at around 11:30 am, the complainant was walking in front of a shopping center at the 9800 block of Bellaire, in Houston, Texas. The complainant stated that she was approached by an unknown male, who grabbed her, and attempted to take an envelope containing cash that she was carrying. The complainant dropped her possessions on the ground, so the suspect grabbed what he though was the envelope and began to run away, when he realized that he had the wrong envelope. The suspect then ran back to the complainant, picked her up, and body slammed her onto the ground. The suspect grabbed the envelope containing the cash and then fled the location. Houston PD #217585-23
Note: Prior to the incident, the victim had gone to the Bank of America at 9875 Blackhawk and withdrew a large sum on money for an upcoming trip. The victim then drove 24 miles to the 9800 block of Bellaire. It is probable that the suspect(s) were watching the bank and followed the victim to her next location.
Suspect descriptions: Black male, early 20s, skinny build, 5'8 to 5'9, 140 pounds.
Please contact Crime Stoppers of Houston DIRECTLY if you have any information related to this investigation. Information leading to the charging and/or arrest of any felony suspects may result in a cash payment up to $5,000. Tipsters MUST contact Crime Stoppers DIRECTLY to remain anonymous and to be considered for a cash payment by calling 713-222-TIPS (8477), submitting an online tip at www.crime-stoppers.org or through the Crime Stoppers mobile app.
Houston Police Department | Suspect Wanted after Violent Westside Jugging Robbery