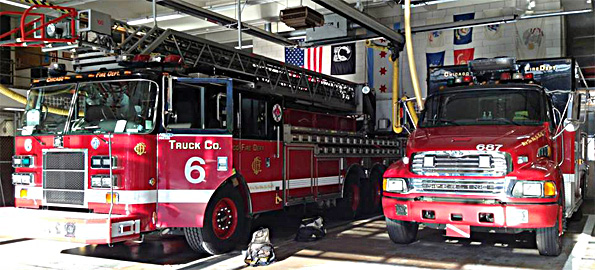 Chicago News and Weather | FOX 32 News
The Air and Sea Rescue Team of Chicago Fire Department — Helicopter 6-8-1, SCUBA 6-8-7 and More
Anita Padilla, FOX 32 News reported recently on the Chicago Fire Department's Air and Sea Rescue Team with Lake Michigan near the Shedd Aquarium as a backdrop.
The Bell Helicopter (N681FD) is Chicago Fire Department's air-sea rescue helicopter 6-8-1.
Scuba members can communicate with Helicopter 6-8-1 up to one mile away. Scuba team members can assemble their technical gear and suits within about four minutes.
In their Ford Explorer command vehicle, all CFD battalion chiefs carry a floatation device, buoys and throw bags that can be used in case they arrive on the scene before the special rescue team.
A water rescue response usually includes …
One battalion chief in command vehicle
One fire engine
One fire truck or tower ladder
One squad — Squad 1, Squad 2, or Squad 5 (unit is two vehicles)
One ambulance — often a second ambulance
One Air-Sea Rescue Helicopter (6-8-1 or 6-8-2)
SCUBA Team (6-8-7)
Engine Company 2 (Fire Boat "Christopher Wheatley")
Boat 6-8-8 (Fast Boat "Eugene Blackmon"), 6-8-9 and/or 6-8-10
Much of the SCUBA TEAM equipment and personnel respond out of Engine 13's fire house at 259 North Columbus Drive.
At the fire house …
Engine 13
Truck 6
SCUBA Team Unit 6-8-7
Deputy District Chief 6-8-6
Paramedic Field Chief 4-5-1
Additional Photos … Facebook.com/CardinalEmergencies