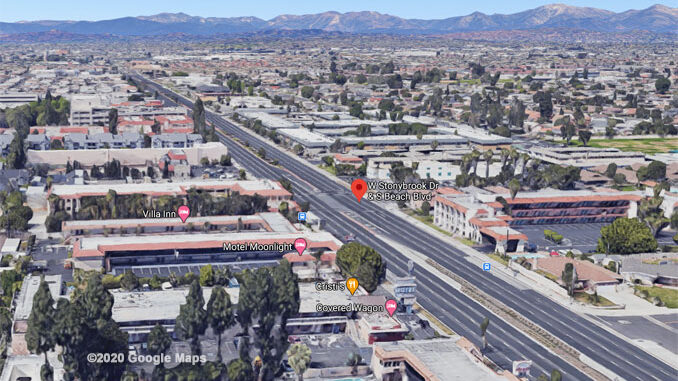 Extrication Video: Firefighters extricated a passenger within 30 minutes, but the driver was pronounced dead at the scene.
Firefighter/paramedics from Anaheim Fire & Rescue and Orange County Fire Authority responded about 7:30 p.m. Sunday, October 4, 2020 to a serious crash involving a passenger vehicle that impacted a wood utility pole near Beach Boulevard and Stonybrook Drive in southwest Anaheim in Orange County California.
Two occupants in the red Honda were extricated in an operation that Anaheim Fire & Rescue Battalion Chief Brent Faulkner (BC1) described as a "very tough extrication." The extrication was difficult because of the severe damage to the vehicle and involvement of the utility pole at the northeast corner of Beach Boulevard and Stonybrook Drive in southwest Anaheim. A large utility box was also located just north of the crash scene. The extrication operation lasted just over 30 minutes.
Orange County Coroner was en route to the scene. Anaheim Police Department is investigating the crash.
WARNING GRAPHIC: A single vehicle crash into a power pole killed the driver and trapped the passenger for over 30 minutes after the impact was remarkably so severe that the steering column and steering wheel was pushed to the front passenger side of a red Honda convertible.
+ + + + +
Injuries: 1 Fatality and 1 with Unknown Injuries
Fire Damage/Property Damage Estimate: $Unknown/totaled vehicle
SHOP AED (Automated External Defibrillators and Accessories)

MORE Breaking News
m.arlingtoncardinal.com
facebook …
GET ALERTS on Facebook.com/CardinalEmergencies
GET ALERTS on Facebook.com/ArlingtonCardinal
Stay informed with news from PublicSafetyReporter.com's Emergencies Behind the Scenes Facebook page — Facebook.com/CardinalEmergencies.