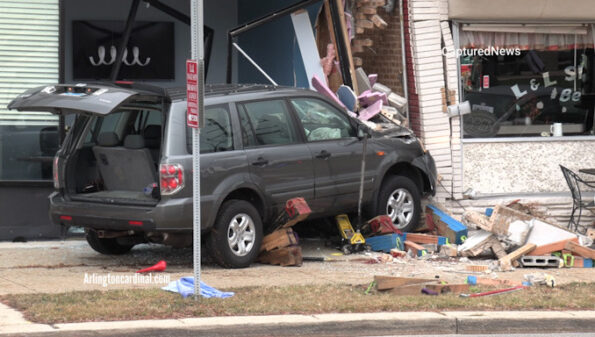 SUV driver crashes over sidewalk into buildings, kills two pedestrians on Northwest Highway, Des Plaines. YouTube Tips ⓘ
Police, firefighters and paramedics from Des Plaines responded about 12:18 p.m. Sunday, November 27, 2022 to a report of a crash with injuries in Des Plaines near the L&L Snack Shop at 456 East Northwest Highway in Des Plaines.
A hysterical caller reported that a vehicle crashed into a building, that a person might have been killed, and that a toddler was injured. Des Plaines police officers were first on the scene and reported discovering a person under the vehicle.
Des Plaines Fire Department's Battalion Chief on arrival reported the SUV crashed into the building at 454 East Northwest Highway and confirmed that one person was in trapped under a vehicle. Firefighters and paramedics discovered two people dead at the scene, and discovered a gas leak hazard at the front of the building.
Firefighters used an automotive jack and cribbing to elevate and stabilize the SUV, and were able to extricate the victim — a 42 year-old woman — from underneath the vehicle within a few minutes. The other pedestrian who was killed was an 80 year-old man, who was found near the SUV on the sidewalk.
The driver of the crashed vehicle, a gray Honda SUV, was a 71-year-old man. He was transported to the hospital, as well as another person, possibly female child. Their injuries were initially believed to be non-life-threatening.
All four victims were transported to Level 1 Trauma Center Advocate Lutheran General Hospital in Park Ridge.
WGN News reported that an additional three victims were injured for a total of five victims.
Firefighters were not able to secure the gas meter that was severely damaged at the front of the building, and Nicor crews were requested to expedite to shut off the gas leak. A strong odor of natural gas was detected south of the scene, where the Cumberland Metra station is located. The wind was coming from the north about 21 MPH and gusting to 28 MPH.
The building at 454 East Northwest Highway and the building at 456 East Northwest Highway both had significant structural damage because of the crash.
The gas leak was still flowing around 1:26 p.m. and fire crews stood by with a charged hose line in case of gas ignition. Northwest Highway was closed in both directions during crash operations and while the gas leak was controlled by Nicor. Police and firefighters also secured a hazard perimeter at the rear parking lot behind the affected buildings.
Des Plaines fire command announced at 2:48 p.m. that the gas leak was controlled by the gas company. Northwest Highway remained closed while gas line and the gas meter were repaired.
Firefighters and paramedics from Arlington Heights, Mount Prospect, Elk Grove Township, Glenview, and Prospect Heights provided mutual aid assistance to Des Plaines firefighters either at the scene, or by standing by and responding to other emergency calls in Des Plaines.
Des Plaines Police Department is investigating the crash, and indicated that drugs or alcohol are not initially considered to be a factor in the crash.
Two people are dead and three people are injured after a driver crashed into a building Sunday afternoon in Des Plaines. YouTube Tips ⓘ
MAP VIEWS BELOW ADS …