Authorities are chasing a burglary suspect driving a black BMW sedan on the 210 Freeway in the San Gabriel Valley (ABC7 Los Angeles). YouTube Tips ⓘ
Burglary suspect chased by police about 8:00 a.m. PT, Tuesday, October 4, 2022. Black BMW 4-door sedan observed at speeds up to 77 to 88 MPH with reckless lanes changes. Pursuit was on I-10 WEST at about 7:56 a.m.
A residential burglary was reported on Canter Lane in Walnut about 6:57 a.m. PT before the pursuit began.
The right, front wheel was broken by 8:10 a.m. with sparks flying and the wheel not turning, and the suspect continued to drive at speeds up to 90 MPH. The passenger side front wheel was turned out to the right, and had no tire.
The driver crashed the BMW into the back of a semi-trailer truck at 8:26 a.m. PT and both suspects ran on foot and were captured at 8:27 a.m. PT on Artesia Freeway (State Route 91) just east of Paramount Boulevard near Long Beach.
Police are in pursuit of a suspect wanted for a residential burglary in Walnut with a closer looker at the foot pursuit and capture of the driver of the BMW and the passenger in the BMW (FOX 11 Los Angeles). YouTube Tips ⓘ
Sheriff's Deputies and California Highway Patrol in the Los Angeles area are pursuing a burglary suspect on Tuesday, October 4, 2022 (FOX 10 Phoenix). YouTube Tips ⓘ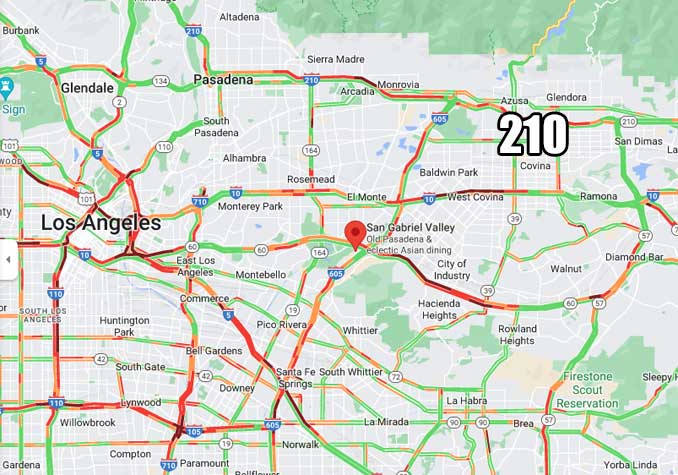 facebook …
GET ALERTS on Facebook.com/CardinalEmergencies
GET ALERTS on Facebook.com/ArlingtonCardinal
Stay informed with news from PublicSafetyReporter.com's Emergencies Behind the Scenes Facebook page — Facebook.com/CardinalEmergencies.